Hi Friends - last fall I was so pleased to be able to share "Totally Awesome Rubber Band Jewelry" with you all. Well, Colleen Dorsey & Design Originals has come out with a second book - Epic Rubber Band Crafts!!! It is a brand new, just released book (April 2014) on the amazingly popular rubber band crafting.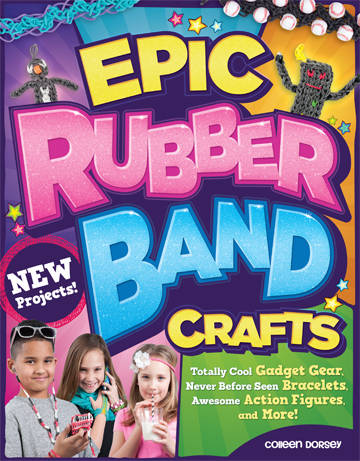 The Toy Industry Association has named the Rainbow Loom the 2014 Toy of the Year! While the original book was filled with various jewelry designs this book is packed with loads of fun project ideas for making bracelets, cell phone covers, action figures, and more to make, use and wear! My personal favorite is the Fringe Bracelet & Scrunchies.
This book contains supply lists and offers hundreds of step-by-step color photos with enough sidebars, tips, and tricks to keep anybody entertained for hours, girls, boys, moms and dads alike! It really is addictive once you get started. There is literally something for everyone in this book.
I bought my sons fiance a loom & bands for Christmas and she's made all sorts of fun and funky bits for us all! Below are a couple pictures of just some of the ones she made for me. My favorite so is either the green/blue sparklie gelly bracelet or one of the rainbow bracelets in the second photo.
Would you like to own a copy of this brand new book?
To be entered to win, simply post a comment telling us if you've tried your hand at rubber band crafting or if you know someone who has a Rainbow Loom (or similar). If you do, tell us what you've made with it!
You have until 4-16-14 to post a comment