Ms. Childs asked if I'd be interested in reading and reviewing her newest Scrapbook Mystery "Postcards From the Dead". Of course I was delighted and readily accepted her offer. These mysteries combine so many of my favorite things....scrapbooking,stamping, mixed media crafting and cooking paired with familiar beloved characters and spine tingling mystery all set in the enchanting and exotic city of New Orleans.
Without a doubt "Postcards From the Dead" lives up to the high standards set by her previous Scrapbook Mysteries...Keepsake Crimes; Motif for Murder; and Frill Kill just to name a few.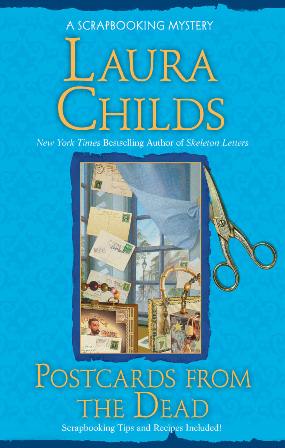 From the very first sentence of the book, " A Dazzling night filled with gigantic floats, silver beads, dizzying lights...." this book pulls you in and doesn't let you go until the very end. This fast paced thriller is set right in the middle of the extravagant, chaotic spectacle of Mardi Gras.
You're immediately transported to a lavish party at Hotel Tremain in a posh 4th floor suite overlooking the Loomis krewe's parade. Carmela, the owner of Memory Mine scrapbook shop, along with her outrageously eccentric friend Ava and 50 or so costumed revelers take in the proceedings. Carmela, waiting to be interviewed by local tv reporter - Kimber Breeze for a piece on the parade and French Quarter is stunned when the unthinkable happens....
Kimber Breeze, broadcasting live right outside the hotel suite on one of the signature French Quarter wrought-iron balconies is murdered!
As the room full of costumed, masked festival goers flee the scene, Carmela is thrown (or throws herself?) into the murder investigation headed by Detective Edgar Babcock... Carmela's significant other. But someone else has plans for Carmela as she starts receiving unusual postcards which are signed by the dead woman.
You'll not want to miss a minute of this exciting mystery as Carmela, Ava, and the patrons of Memory Mine try to figure out just who is posing as the ghost of the dead reporter ...
and who murdered her!
******************************
I have to say I love teasing you all...
'cause you know you just gotta find out who done it!!
Well, you'll have a chance to find out exactly who that murderer is as Ms. Childs has graciously offered to send an autographed copy of "Postcards From the Dead" to one very lucky Ink Stains reader!!
To be entered to win your copy simply post a comment telling me if you've ever read any of Ms. Childs books and if so which was your favorite.
(My answer would have to be the last one I read!)
You have until 10-10 to post your comment to be entered in the drawing (please be sure to leave me some way to contact you to get your snail mail addy in case you are the winner).
As an added treat tomorrow I am going to start a project which is featured in the book
an Altered Cigar Box Purse!!!
You'll want to stay tuned as you might just have a chance to win that as well!!!