You know by now that autumn is my favorite time of the year...it brings crisp cool air, the crunchy fragrant leaves to walk through and a new Scrapbooking Mystery by Laura Childs! Each fall I am so ready to find out what mischief Carmela and the girls are into.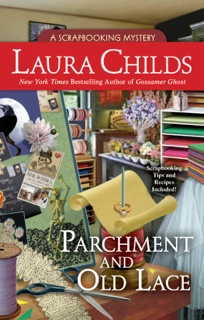 Parchment and Old Lace
is number thirteen in a line of fun, crafty mysteries by
Laura Childs
. Like the previous mysteries this lively tale will keep you turning the pages to find out just what Carmela is up to next. This time around her tale starts out in a romantic restaurant with her beau Detective Babcock. They quickly end up in one of the ancient cemeteries that are dotted across New Orleans where they find an acquaintance strangled to death with a piece of vintage lace!
From the creepy night in the cemetery, the tale takes you down a winding path through the shops, streets and homes of the French Quarter and Garden District. Just when you think you know who committed the heinous crime another twist comes along to make you re-think your original suspect until you have quite a lengthy list. You'll need to pare down your list with the help of Carmela's Nancy Drew like sleuthing skills.
You won't want to miss out on this fun little mystery that will not only entertain your mind but it's also sprinkled with crafty bits of information and scrumptious recipes of a few of New Orleans favorite delicacies.
You can win your own copy right here by simply leaving a comment answering one or more of these questions...
Have you read a Laura Childs Scrapbook Mystery before?
Who is your favorite character?
What is your favorite craft Carmela has created?
You have until 10-29-15 to enter for your chance to win!
Good Luck Everyone!!